Jhere are some ways for filmmakers to approach a rock 'n' roll documentary. Some are content to film a concert. Others look into a performer's private life to reveal the person behind the performer on stage. Many of the best rock docs are a combination of the two.
local show Spokane Public Radio Goes to the Moviesco-hosted by the InteriorEditor Nathan Weinbender, presents a screening on June 12, 1968 Monterey pop, one of the best concert films of all time thanks to the performances of Jimi Hendrix Experience, Jefferson Airplane and Otis Redding, among others. The '60s, unsurprisingly, were fertile ground for great rock documentaries, ranging from Bob Dylan's tell-all (or is it?) Do not look back to the epic Woodstock movie at give me sheltera 1970 release that captured the Rolling Stones' violently cursed 1969 concert at Altamont.
While these are classics, there have been plenty of great rock documentaries produced more recently that are worth following and watching on a lazy summer night. Just be sure to turn up the volume on these movies:
EXCITEMENT!
Director Doug Pray's 1996 deep dive into Seattle's so-called "grunge" movement and its effect on the city and its music scene is packed with clips that will quickly make any Northwest resident nostalgic or cringe. to memories of the early '90s. It holds its own, however, and is increasingly poignant given the deaths of Kurt Cobain, Layne Staley, Mia Zapata, Chris Cornell, and other personalities from that era.
shut up and sing
It may be a "Dixie Chicks documentary", but it's much more. shut up and sing explores the legacy of singer Natalie Maines criticizing President George W. Bush and the Iraq War onstage in 2003. Suddenly, one of the world's biggest bands found themselves virtually banned from mainstream country radio stations that made famous. As a window into the music industry, politics and celebrity, this film is excellent – ​​and remarkably still relevant 13 years after its release in 2006.
ANVIL! ANCLUM'S STORY
At first glance, this 2009 film is the story of a nearly forgotten team of hard-rock Canadians who fight to keep their musical dreams alive. And although there are many spinal valve moments, it's a surprisingly poignant film, truly a story of lifelong friendship and two men devoted to each other and their shared love of raw.
NEW YORK DOLL
Your home rock historian may be familiar with the New York Dolls, but most of us know them primarily from the androgynous glam-rock style they passed on to Aerosmith, KISS and Mötley Crüe. Arthur "Killer" Kane was the bassist for the Dolls, and this 2005 film catches him living a quiet life as a devout Mormon after years of drug and alcohol abuse. Inspired by the opportunity to reunite with his old band for a festival gig, Kane must balance his personal beliefs with his sordid and entertaining history. The resulting movie is awesome.
20 FEET FROM CELEBRITY
This 2013 documentary won the Oscar for Best Documentary, so it's not exactly a secret. But if you haven't seen it yet, you need to fix that right away. Director Morgan Neville explores the world of pop singers, the vital role they played in the definitive songs of rock 'n' roll history, and the struggles such singers like Merry Clayton and Rock and Roll member Roll Hall of Famer Darlene Love had to face off. overcome to be seen at once and understood.
STRIPE
Rappers are the most famous faces in hip-hop, but they wouldn't be a thing without DJs, at least during the form's early years. Stripe focuses on "turntables", the people who took vinyl records and scratched them to create the explosive beats and creative sounds needed for rappers to shine. Go beat-hunting with DJ Shadow, tour the DJ World Championship with Q-Bert, and watch Jurassic 5 mix together Cut Chemist and Nu-Mark beats with four vocalists to incredible effect. Even if hip-hop isn't your thing, this film is informative and entertaining.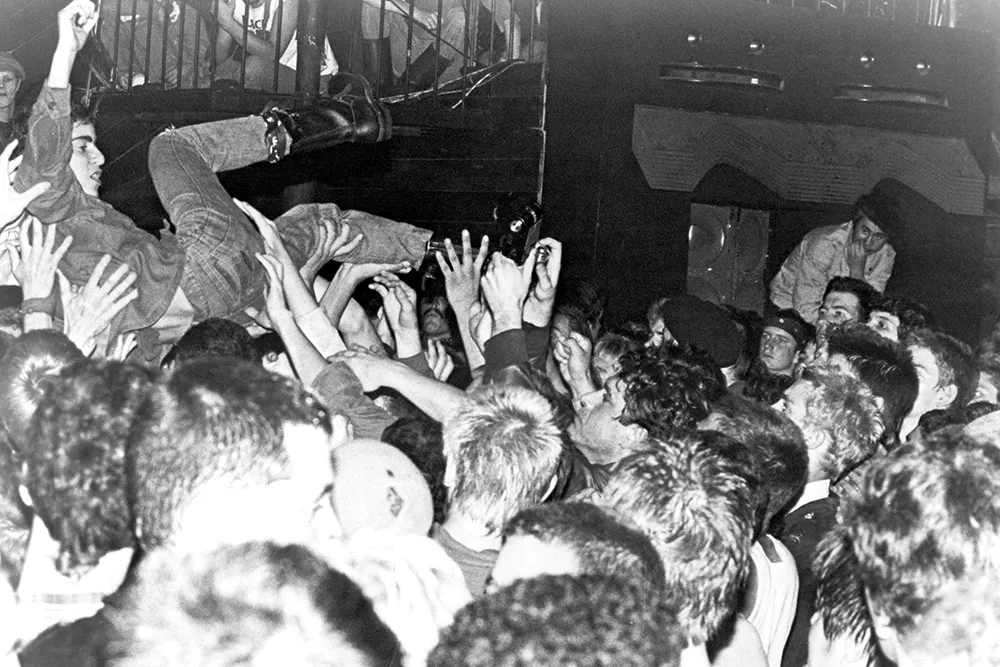 THE DECLINE OF WESTERN CIVILIZATION 1 & 2
Director Penelope Spheeris has a knack for capturing the youth of Los Angeles. His 1981 feature film The decline of civilization captures the Los Angeles punk scene as its idealism gives way to violence at gigs by star bands like the Germs, Black Flag and X. Spheeris manages to capture the energy of a mosh pit like few have since. His brilliant sequel from 1988, Part II: The years of metallands on the Sunset Strip in the hair-metal era, and while Poison, Megadeth and Ozzy Osbourne all chime in, the real "stars" are the fans, groupies and aspiring Spheeris headbangers captured in hilarious and thoughtful interviews.
CULTURE AND FURY
The Sex Pistols pioneered punk music in the UK, and director Julien Temple lands interviews with all the surviving members (RIP, Sid Vicious) in this 2000 documentary that tells the story of the rambunctious quartet. More than that, however, it puts the band's meteoric rise into context, explaining exactly what was happening among the disenfranchised working class in England in the 70s that led to the smirking success of singer Johnny Rotten and Co. ., and legendary tunes like "Anarchy in the UK"
MADONNA: TRUTH OR DARE
OK, so Madonna was pretty much in control of the flow of this "revealing" 1991 documentary about her Blonde Ambition tour. But it was still eye-opening to see her motherly relationship with her dancers and her romantic relationship with the then-handsome Warren Beatty, not to mention the impressive sets for her concerts. Lady Gaga and Katy Perry took a page from Madonna's book when they produced their own self-glossed documents decades later.
CLOSE AND PLAY THE HITS
When LCD Soundsystem announced their split and scheduled a farewell in New York's Madison Square Garden, it marked a glorious end for the James Murphy-led dance-rock crew. Sure, they didn't stay apart, reforming a few years later to tour again, but this 2012 film remains a worthy piece of rock-doc canon as Murphy wrestles with the question of when to shut down a band at success. ♦
Monterey pop with Spokane Public Radio Goes to the Movies • Wednesday, June 12 at 7 p.m. • $15 • Bing Crosby Theater • 901 W. Sprague • spokanepublicradio.org • 325-7328