By Ralph P. Locke
Two exquisite sopranos bring us refreshing songs, arias and cantatas; and a famous Broadway composer and remarkable black librettist deliver a searing opera about police brutality.
Fanny & Felix Mendelssohn: Airs, Lieder, Overtures. Chen Reiss, soprano, and the Jewish Chamber Orchestra Munich, dir. Daniel Grosman. Onyx 4231—65 mins.
Trennung: Songs of Parting. Carolyn Sampson, soprano, and Kristian Bezuidenhout, pianoforte. Bis-2623—73 minutes
Blue (music by Jeanine Tesori; libretto by Tazewell Thompson). Briana Hunter (mother), Aaron Crouch (son), Kenneth Kellogg (father), Gordon Hawkins (reverend), Washington National Opera, dir. Roderick Cox. Pentatone PTC 5186-967—122 minutes.
To purchase, click here for: Trennung, Fanny and Felix Mendelssohnor Blue.
I often like to be entertained and challenged by classical music, not comforted by yet another repetition of familiar sounds.
But, when it comes to Covid, I'm still a Nervous Nellie (or Nervous Nelson, being a him pronoun person). So no concerts for me yet, nor retransmissions from the Metropolitan Opera to the cinema.
Luckily, the record companies are more than meeting my need for new pleasures and adventures. This episode of "Listening During Covid" deals with three releases, each involving music that is mostly unusual, or performed in an unusual way, or both – and all of them deeply satisfying.
The best known name here is that of Felix Mendelssohn. Lyric soprano Chen Reiss (her first name means "Grace" in Hebrew) and conductor Daniel Grossman combine several wildly disparate works by Felix with pieces by her hugely accomplished sister-composer Fanny Mendelssohn Hensel. Eight of Fanny's songs, originally for voice and piano, soar and shine here in stylistically appropriate orchestrations by Tal-Haim Samnon. Two of the eight were originally published under the name Felix because it was considered improper at the time for a middle-class woman to sell her wares – even if those wares were compositions of poems by, say, Goethe .
Song lovers will be fascinated to hear Hensel's thoughtful take on "Die Mainacht" (The Night of May), a sweet, sad poem by Ludwig Hölty best known through Brahms' highly evocative setting. We hear a remarkably dramatic concert tune – "Infelice!" – by Mendelssohn, and a no less vivid "dramatic scene" by Hensel, based on the ancient Greek legend of Hero and his secret lover Leander. The important violin solo in "Infelice!" is played by the famous soloist Arabella Steinbacher.
The CD is completed by two excerpts from Fanny's 'Lobgesang' cantata (not to be confused with Mendelssohn's 'Lobgesang' symphony) and an early version of Mendelssohn's overture 'The Hebrides (Fingal's cave)' which is as satisfying in its own way as the revised version that music lovers rightly cherish.
Reiss sings exquisitely and meaningfully throughout, as she did in a collection of Beethoven songs and arias I've reviewed here. The Jewish Chamber Orchestra Munich sounds light and sweet (and beautifully tuned), and also, at crucial moments, with great passion. (For an interview with soprano Reiss on Fanny Hensel that is far more informative than the somewhat odd CD booklet, click here.)
Carolyn Sampson is one of the most recorded lyric sopranos of our time, best known in oratorio and art song. His latest CD is called Trennung, from one of the many beautiful songs on it, Mozart's "Das Lied der Trennung" ("Song of Parting"). The songs, all of which deal in one way or another with a love that's broken, or at least made painful by distance, are written by a diverse group of composers from across the 18th century, including Mozart and Haydn but also – in order of birth – Wolff, Fleischer and Herbing. My God, the composers of the time knew how to write with gratitude for the voice and with character for the keyboard! Of course it helps that there is such a superb artist as Sampson who sings, and that his collaborating pianist is Kristian Bezuidenhout, renowned for his many recordings, both solo and with orchestra (including Mozart and Beethoven concertos) . You can feel the vocalist and keyboardist listening to and interacting with each other, pausing very slightly, pushing up a tempo, and thus often highlighting interesting bliss in the poetic text. Bezuidenhout plays a modern copy of an 1805 Viennese instrument that is a joy to hear and superbly responsive.
The Opera 2019 Blue plunges us forcefully into our own day. It tells the story of a black police officer (referred to simply as the father) whose teenage son is shot dead during a protest against – the bitter irony – police brutality. We come to the start of the story, meeting the mother (also African American), when she confesses to her girlfriends – I use operatic terminology – that she "married a cop" and reveals that 'she is pregnant. We see the Father interacting with his three police buddies ("Welcome to the dads club!"). We see the Father forcefully reminding the Son how to dress so as not to be targeted ("take off the hoodie"). And we live the agony of the couple following the murder of their son. In a powerful epilogue, they recall their son's last words to his father: "I can't [be home] This weekend…. One more, a silent protest. Nothing will happen. You could come with me. Nothing will happen. Nothing…."
The music is by Jeanine Tesori, best known for her score of Caroline or Change, the award-winning 2003 Broadway musical about a black maid working for a middle-class Jewish family. The libretto is by famous director Tazewell Thompson. The opera was first performed, fully staged, at the Glimmerglass Festival, but the recording was made by the Washington National Opera (with most of the same singers) under studio conditions and with some distance physical, in June 2021. YouTube contains several valuable videos of excerpts and explanations by the composer and the librettist (here and here) and of opera specialist Naomi André.
Tesori's music is engaging and memorable. Echoes of blues, jazz and gospel styles return, especially in several powerful scenes in Act 2, in which the father and mother face – or hide – the immensity of their loss. There's definitely Motown in The Girlfriends scene.
Tesori says she repeatedly listened to a recording of Thompson reading the libretto, in order to capture its intended inflections. She succeeds wonderfully. It helps that singers on the recording of Blue are so intensely communicative. Most have confident voices (although Kenneth Kellogg as a father is less stable than the others) and convey words well. The only big name in the cast is Gordon Hawkins, a world-famous Porgy, Rigoletto and Alberich who establishes a rock-solid presence here as a reverend.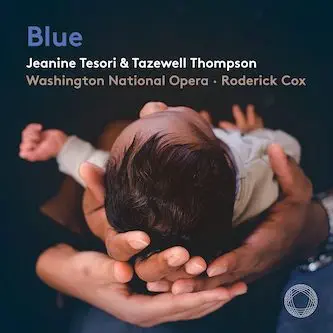 Blue is surely one of the best new operas to have been written in North America (I don't know of any) in the last twelve years. I'd put it up there with a Mexican-born composer by Daniel Catan He postino (2010, in Spanish; available on DVD with Plácido Domingo), by Scott Wheeler Naga (2016, with Anthony Roth Costanzo), and by Terence Blanchard Fire locked in my bones (2019; it opened the Met's 2021-22 season, with a cast featuring Angel Blue, and aired on PBS).
Anyone who tells you that classical music is too predictable, specialized in retreading, don't listen to what I listened to!
---
Ralph P. Locke is Emeritus Professor of Musicology at the Eastman School of Music at the University of Rochester. Six of his articles have won the ASCAP-Deems Taylor Award for Excellence in Music Writing. His last two books are Musical exoticism: images and reflections and Music and Exotics from the Renaissance to Mozart (both Cambridge University Press). Both are now available in paperback; the second, also in the form of an electronic book. Ralph Locke also contributes to American Records Guide and online art magazines New York Arts, opera todayand Boston's musical intelligence. His articles have appeared in major scholarly journals, Oxford Music Online (Grove Dictionary) and in the program books of major opera houses, for example, Santa Fe (New Mexico), Wexford (Ireland), Glyndebourne, Covent Garden and the Bavarian State Opera (Munich).